Everyone I know has a newfound respect for P!nk. Apparently, she's been doing the wire act from last night's Grammy Awards as an encore in her live set for some time now. That it was the standout moment in the telecast says a lot about what the music business has to do to attract and retain fans.
It's not just about having a great song or a great look. It's about transporting your audience to another place. In our hyper-connected society, what are you doing to get your audience away from Twitter, away from Facebook, and away from their friends long enough to actually pay attention to what you're doing? So many bands I've seen in the last few years still struggle and strain to be heard over the din of a bar crowd that's more interested in their own conversations than to hear the music they apparently paid to see.
That ties back to the undercurrent of chatter going on in many of the Academy's chapters. I'm a member of the Philadelphia Chapter, and outside of New York and Los Angeles, the chapters work very hard to build community, launch careers, and advocate for arts education. Those are the reasons I remain a long term supporter (and member) of the Recording Academy. But casual observers often see the Academy linked directly to the efforts of the RIAA to cripple file sharing.
In so many ways, that's sad, because the members of the Academy are personally interested in so much more. Many of us recognize that you've got to create content worth paying for and experiences worth paying for to justify an audience's patronage. The vast majority of artists have already embraced the idea that collecting cash for album tracks is just the tiniest fraction of your potential revenue stream. A BitTorrent of Pink's performance is nothing like seeing her live, and that's the kind of focus artists require to make money in this environment.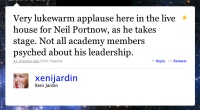 That's a shame, because Portnow has done so much to refocus the Academy around education and outreach. It's sad when he uses the stage as a soapbox for the industry's anti-piracy campaign. In the middle of a recession, here's a guy, standing in front of an arena full of folks who can afford tuxedos and Cristal, complaining that the people in the room aren't getting paid enough. Great way to build rapport.
Still, Portnow's always going to be lightyears ahead of his predecessor, Michael Greene. The membership practically ran him out of town on a rail when we discovered that only about 10% of MusiCares donations were actually going to help sick artists. (Portnow has largely fixed this, though the outlay on MusiCares events would still make some of my friends in the non-profit community weep.) And that's not even scratching the surface of Greene's alleged ethics violations, accusations of sexual harassment, and my personal beef that he pretty much got the Grammys kicked out of New York permanently.
Overall, I'm happy about what Portnow's done, and I was really impressed with last night's telecast. It's the first Grammy show in years that was technically tight and consistently engaging. If you're still upset about who actually won the awards, then you can blame me and the other 10,000 voting members who are admittedly a little behind the curve when it comes to defining "what's good." Portnow's LA crew did a great job rolling out the equivalent of Oscar "screeners" so voters could actually listen to all of the nominated tracks and albums this year.
Some of my highlight moments from last night:
Had you told me in 1994 that we would be buying tickets for a Green Day Broadway musical in 2010, I would have advised you to step away from the bong. Yet, here we are.
Cheers to Hillary Scott for a quick recovery after getting trapped by a scrim during Lady Antebellum's performance.
I grew concerned that facemasked will.i.am was going to go all supervillain and use Beyonce's riot patrol to take the Staples Center hostage.
I'm pretty sure most CBS affiliates went to bars-and-tone the moment Eminem got on the stage. How much longer before creative and financial pressures force the telecast onto cable, like the Miss America Pageant and Monday Night Football?